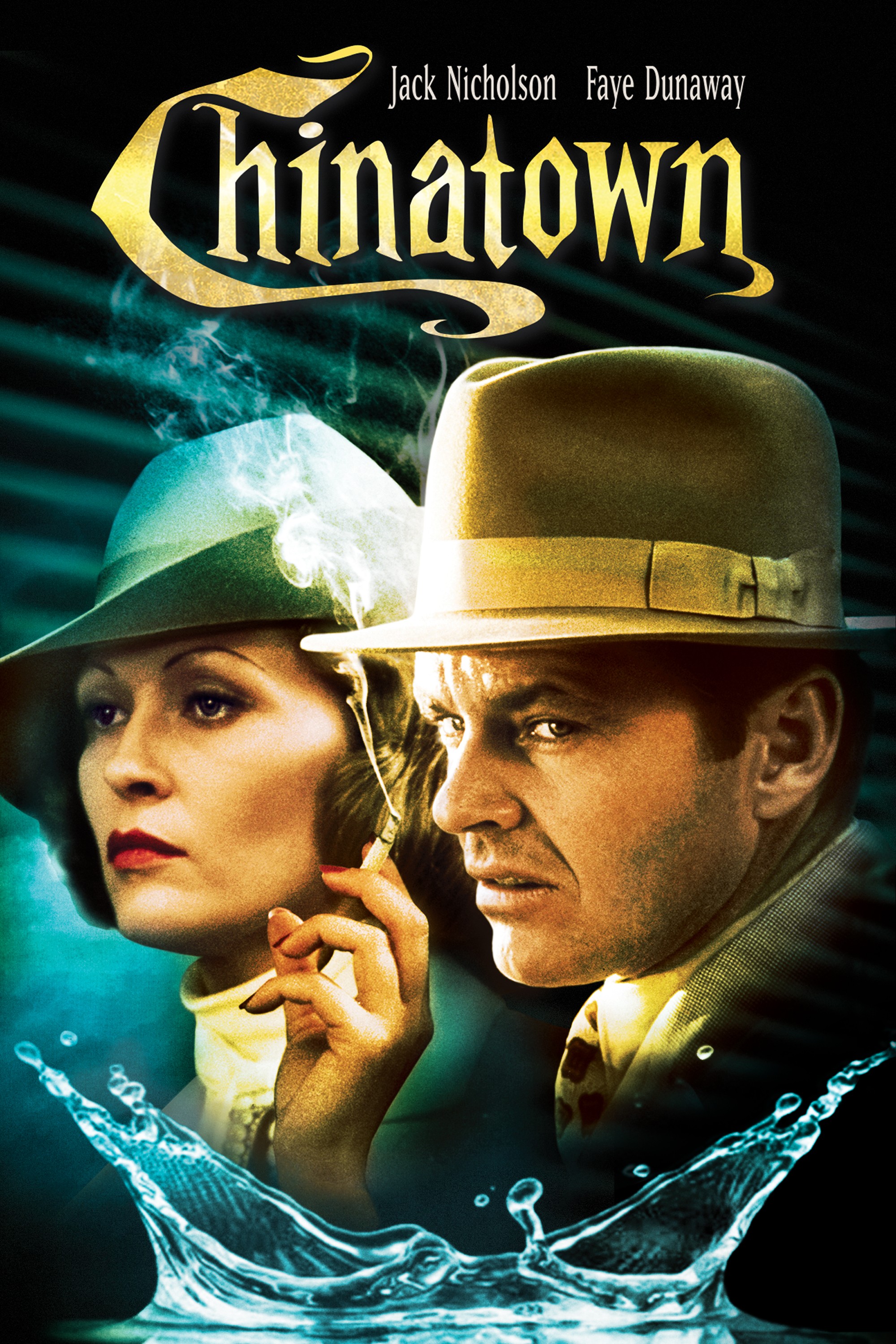 "Chinatown" was released in 1974 and was directed by Roman Polanski & written by Robert Towne. The film stars Jack Nicholson, Faye Dunaway, Perry Lopez, and John Huston. Nicholson plays Jake Gittes, a compassionate but gritty private investigator in 1930's Los Angeles running from his past as a former detective in Chinatown. The film's plot is complicated since it's a noir mystery, but the gist is that Gittes uncovers a web of corruption & lies after he is hired by Evelyn Mulwray (Faye Dunaway) to investigate the death of her husband, Hollis Mulwray, a water & power tycoon.
(Quick side note to address the elephant in the room: Obviously, what Roman Polanski did in 1977 was disgusting, criminal, and inexcusable. However, his actions outside of directing won't be mentioned/integrated into my review of the film. In my reviews I only focus on the film that's discussed and I always keep real-life scandals & politics out of them.)
The Oscar-winning screenplay for "Chinatown" is often called the best of all time, and while I don't think it decisively is, I definitely understand why critics think that. This is an immaculate script that can be analyzed multiple times for its themes, metaphors, hints, parallels to real-life events, and references to old noir films. What's really interesting is that all the clues & evidence for the mystery are revealed in the first act of the movie, but the audience and Jake Gittes (who is in every scene by the way) don't know that until the end.
The characters in "Chinatown" are really compelling, especially Jake Gittes. He's smart and generous while also being a consistent liar and the first person to start a fight. Jack Nicholson plays the character well, and it's clear that he was the perfect choice to play Gittes since his mannerisms are integral to Gittes. John Huston also gave a standout performance as Noah Cross, the villain of the film. When Huston's Noah Cross is introduced, he's charismatic and civilized, but as the film progressed and more is revealed about him, he became increasingly vile and creepy.
Another fantastic part of the film is Roman Polanski's direction, specifically his unique camera movement. He often moved the camera in relation to the characters; for example, the camera would shift with the characters' feet when they walked. The colors and shots in the film were beautiful too, especially when the stunning landscapes of the movie were featured.
The filmmakers also did a great job at making sure the setting of "Chinatown" looked and felt like the 1930's. The clothing, architecture, and the way people talked all fleshed out the environment that the movie was going for. It also felt like a 1930's noir film at times, specifically during the scenes in which Gittes and Mrs. Mulwray interacted.
It's important to note that the film doesn't really pick up speed until 25 minutes in. The first 25 minutes mainly consist of scenes in which Gittes spies on people or has some uninteresting conversations, and unless you are entertained by good cinematography like I am, there isn't really much to be invested in. The beginning isn't miserably boring or anything; it just would have been better if around 10 minutes were trimmed.
However, the film's pacing improves quite a bit after the 25 minute mark, leading to an amazing climax. Without exaggerating, the last 15 minutes of this film might be my favorite finale of any movie I've ever seen. The ending is really intense because all he** breaks loose in a shocking yet satisfying way. I can't emphasize enough how perfect the conclusion of "Chinatown" is. Plus, its final line is one of the best in cinema history:
"Chinatown" is a well-written, well-acted, and well-directed film with complex themes and a brilliant ending. While this isn't a perfect movie, it more than makes up for its slow start in its final act. I love "Chinatown" and I recommend this film to everyone, especially film lovers like myself.
Grade for Film Lovers: A+
Grade for Average Moviegoers: A
Classic Film Reviews #8: https://reelopinion.com/2021/01/22/reservoir-dogs-classic-film-reviews-8/