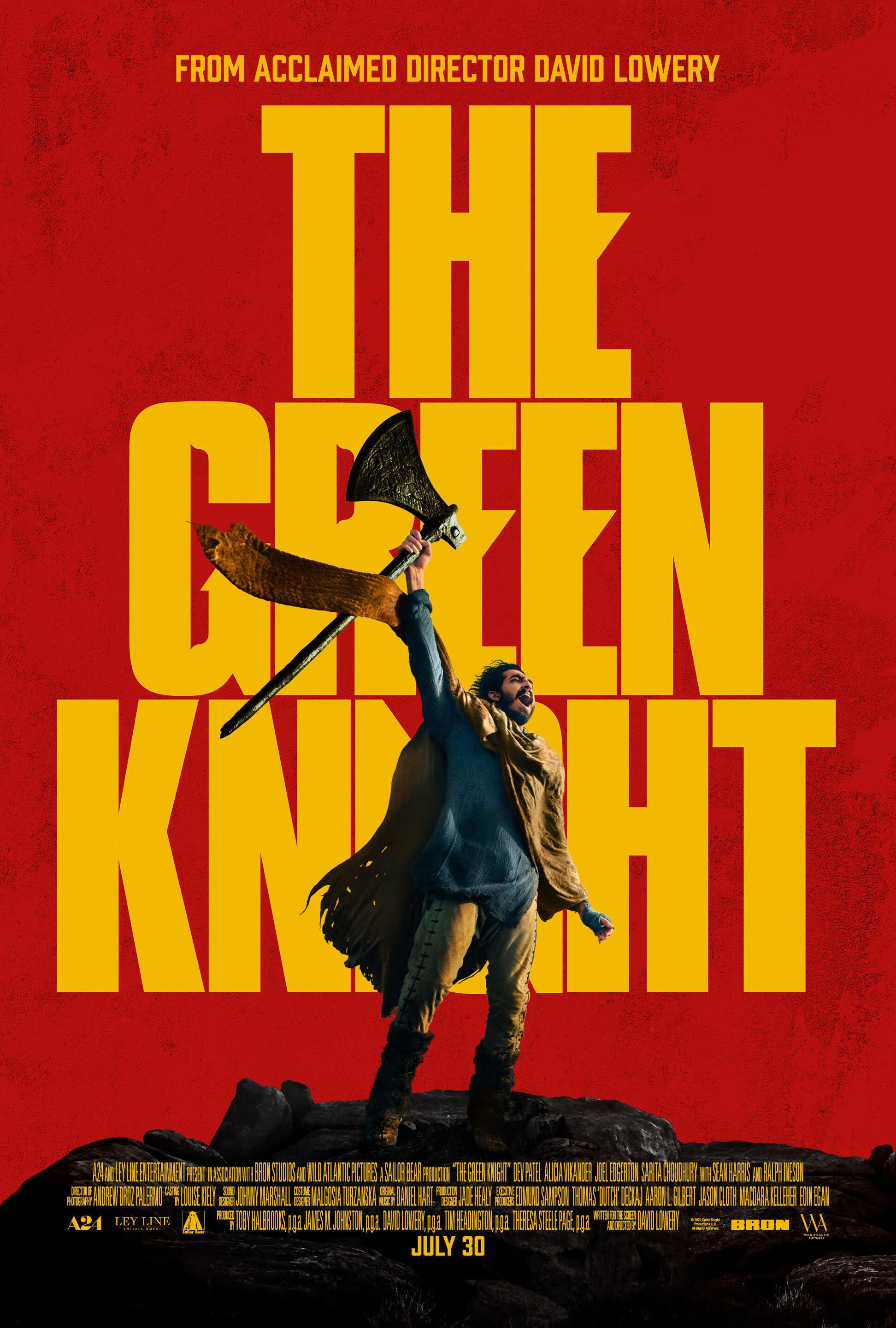 "The Green Knight" was written & directed by David Lowery and stars Dev Patel, Alicia Vikander, Joel Edgerton, Sean Harris, and Ralph Ineson. Based on the Arthurian poem Sir Gawain and the Green Knight, David Lowery's newest film follows Gawain (Patel), the nephew of King Arthur, on his journey to face his death by the Green Knight (Ineson) to put honor on his legacy. While this may sound like the plot to a LOTR-esque action-adventure, it isn't. "The Green Knight" is a mind-bending character study which explores the dangers of pride and impulsivity, all told in the backdrop of a fantasy.
People who are familiar with A24, the studio behind this film, will know to expect an artsy film, but the general public will mistakenly expect an action movie. A24 is possibly the most interesting studio to me because they always release cerebral, original films (which is sorely needed during the era of Marvel movies), but their films are hit-or-miss. Some are great, like "The Lighthouse," "Ex Machina," and "The Disaster Artist," while others are terrible, like "Midsommar," "Tusk," and "The Bling Ring." What I appreciate most about A24 films, however, is that they always get people conversing. All of their films, good or bad, bring up discussions among audiences, which is one of the best feats movies can accomplish. "The Green Knight" will bring up some of A24's best discussions yet.
The ambiguity throughout Gawain's entire journey is perfect, as it is used to explore and challenge his mentality through several events/setpieces. Each person Gawain encounters affects his character arc as he goes from being headstrong and entitled to humble and somber. While the ambiguity may make certain scenes in this film feel confusing, it also makes the film riveting and engaging.I personally love films that challenge the audience to determine what's real and what isn't, and "The Green Knight" more than succeeds at doing this, especially with its perfect and highly visual ending.
David Lowery's direction was impeccable; all the locations were gorgeous and creative without depending on heavy amounts of CGI. There were a multitude of times during the film when my jaw dropped from the visuals. The film also has an atmosphere where the world feels majestic yet filthy & lived-in, grabbing the viewer into Gawain's journey.
All the performances were great as well, especially Dev Patel and Ralph Ineson. Patel gave a subtle performance and displayed all of his emotions through his eyes rather than words, which fit the film's strong emphasis on visual storytelling. Ineson's voice as the Green Knight himself was booming and demanded power over the audience, making the character feel truly dominating.
My most significant critique of this film is that the segment in which Gawain is staying at a castle with Joel Edgerton's character was too long and quite boring. About 8-10 minutes could easily have been cut out of it. Not only is this segment too long, but it also feels out of place compared to the rest of the movie since it relies more on lofty dialogue rather than visual storytelling. Joel Edgerton's character was somewhat interesting, but I was checking my watch throughout the entire segment.
"The Green Knight" has breathtaking visuals, a compelling & complex protagonist, an intriguing ending, and a masterful use of ambiguity. Although it suffers from a boring ten-minute-long segment, it's one of 2021's best and most thought-provoking films.
Grade: A-
My Review of "Space Jam: A New Legacy," the Opposite of "The Green Knight"